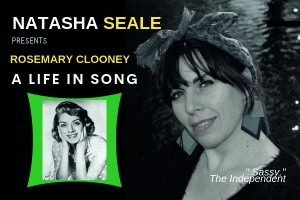 Singer, actress, songwriter Natasha Seale fronts an all-star band (Rob Barron, Matt Home & Robert Rickenberg) to celebrate the life and music of the iconic vocalist Rosemary Clooney whose voice captured the essence of a bygone era.
Former West End leading lady Natasha presents her heartfelt tribute to 'the girl who sang with the laugh in her voice', through a blend of narrative and a repertoire drawn from the delights of the 1950's popular song book - bringing sensational swing, Latin grooves to familiar favourites steeped in the jazz tradition. 
Natasha's infectious energy and superb vocal performance take audiences on a journey through Rosemary's rich and diverse career spanning 50 years through classic favourites such as 'Come on-a My House' to the Concord years featuring songs by Duke Ellington and Billy Strayhorn as she weaves charming anecdotes around the glitterati and close company Clooney kept with Bing Crosby, Frank Sinatra, Nelson Riddle, The Gershwins, Billie Holiday and Judy Garland. 'A Life in Song' premiered at Stables in Wavendon to critical acclaim.
"Natasha brings her own blend of pizzazz and musicality, creating new life into these wonderful songs. Not to be missed." - 
Claire Martin OBE
https://www.youtube.com/watch?v=Rbv3oLBIffw
http://www.natashaseale.com
Saturday 14 March 8pm
Tickets
£14 (£12 concs)