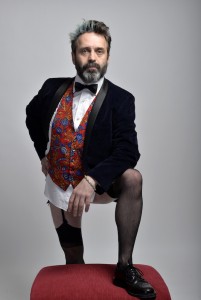 We're kicking off the new year with a distinctly Canadian flavour, with PHIL NICHOL and his unquenchable thirst to break boundaries, and the wild, utterly absurd and magnetic TONY LAW!
Phil Nichol
is a truly unique performer. An acclaimed actor, award winning comedian, producer, presenter, writer and musician, there is no end to his talent!
Phil is an energetic and exciting performer with an unquenchable thirst to break boundaries and innovate with his work. His skill as an improviser whether it be musical, comedy or straight is unparalleled. With a surreal edge to his mischievous rantings, Nichol always brings something new to the stage. His keen sense of fun and eye for the shocking and absurd has cemented his position as one of the best comedians on the circuit today. Phil's assured and award winning performances in his theatrical work have attracted critical accolades and see him in great demand as an actor...
"There is no point in trying to describe the experience, every Nichol gig is unique of course, it has to be lived, you just have to be there, to absorb the atmosphere he creates and of course laugh until the stomach muscles ache for they surely will."
One4Review ★★★★★
"Phil Nichol is a born entertainer…Phil is a multi-faceted performer meaning he can do everything from musical comedy to one-liners, storytelling, characterisation, black comedy, blue comedy — you name it."
The Scotsman ★★★★★
Tony Law
 proves that sometimes (if you get it right, and not many do) comedy is at its best when it means nothing at all. The daftness comes in a distinctive guise - a Canadian, born in Trinidad, descended from Vikings (he says), and determined not to give us anything as concrete as an identity to cling on to. Who he is, what he is on about, and how far he can raise his eyebrows are constantly being redefined, celebrating silly, taking a pop at mean-spiritedness – and forever evading our expectations!
James Alderson
was voted "Best Comedy Act 2015" by the WOW247 Awards and was voted "Best Comedian 2014" by The Guide Awards, and since then, things have just got better and better!
James  has established himself as one of the most booked MCs on the circuit too, now regularly appearing as MC or resident MC for over a dozen professional comedy clubs around the country, including resident compere for Just The Tonic!
He also regularly gigs abroad travelling to Italy, Cyprus, Spain, Egypt, Crete, Turkey and various corporates including performing in Iceland for WowAir, Switzerland for Nestle and in New York at Christmas.
"James sets the room alight like a pyromaniac in a fireworks shop!"
- Russell Kane
"James is one of the most original and fun MCs I've worked with!"
- Dane Baptiste
Upcoming act
Jack Hester
is a high energy, rapid fire, good craic Irish comedian. Jack has won the infamous Blackout twice at Up The Creek and was runner-up at King Gong in the Comedy Store London.  His debut appearance at The Stand-Up Club received huge laughs and he is now working his way up the ladder...  
Friday 10 January 8pm
Tickets
£12.50