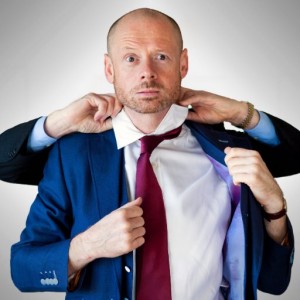 Alistair Barrie
is one of the top headliners on the international comedy circuit. He has performed in over 40 countries including acclaimed performances in Australia, Cape Town, Mumbai, New Zealand and the legendary Comedy Cellar in New York. He is a regular at London's world-famous Comedy Store and a core member of their weekly topical 'Cutting Edge' team.
He has made countless appearances at UK music festivals including Glastonbury, Latitude, Bestival and Green Man and taken several solo shows to The Edinburgh Festival. His 2013 and 2015 shows were nominated for 'Best Show at The Fringe' with the latter transferring to London for a run at The Soho Theatre, and he was runner-up in the 2015 English Comedian of the Year. His latest show, 'The InternationAL' premiered at the 2018 Melbourne Festival and went on to Edinburgh where it received a highly coveted five star review from The Scotsman, before selling out its entire run at The 2019 New Zealand International Comedy Festival.
A seasoned performer at corporate events, Alistair is a highly skilled MC and awards host. He has worked across the industry for clients including Sony and Orange and is possibly the only comedian to have performed at both the Labour and Conservative Party conferences. He has also entertained international troops as far away as Afghanistan, Cyprus and the UAE.
Alistair is a frequent panelist on BBC Scotland's award-winning 'Breaking the News' and has appeared on radio and television all over the world, including 'Celebrity Deal or No Deal', 'BBC Breakfast,' 'Good Morning South Africa' and 'The Blame Game' in Northern Ireland. He has also written for the most of the major TV and radio networks and a number of other comedians, as well as keeping a regular blog, 'Food Ponce,' about restaurants he visits on his travels.
"No one does righteous indignation with the same brio as Barrie, an inheritor of the splenetic mantle of the great 80s alternative comedians" - 
The Guardian
"Barrie's analytical nous and store of snappy gags mark him out…Excellent" - 
The Independent
"Properly smart comedy for grown-ups. By a properly smart comic" - 
★★★★ The Scotsman
Mark Dolan
is an award-winning broadcaster and comedian, perhaps best-known as host of the iconic Channel 4 comedy series Balls of Steel, as well as his three series run of globetrotting documentaries for C4 - The Worlds And Me - in which he met the smallest man in the world, the tallest woman and the fattest pet! He survived a stint on TV's most dangerous show, The Jump, won Celebrity Come Dine With Me and is currently recording a new radio series for Amazon entitled Mark Dolan's VIP Lounge. He has just recorded a Sky Atlantic fan show for the hit US series Westworld and his new stand-up show Asking For A Friend will tour the UK in Autumn 2018. Mark is an ongoing weekly commentator on Sky News and stars in BBC1's Pointless Celebrities this summer. Most recently he scooped the prestigious award for best joke at the 2018 Dave Leicester Comedy Festival.
Stand Up Comedian, Writer, Director, and Trained Physiotherapist,
Barry Ferns
has written for the BBC, C4, Radio and has won awards for both Stand Up and directing Short films. His films have been selected for The LA Comedy Film festival, Raindance, North by Northwest and he has won the Malcom Hardee Award for Comedy, as well as the Mervyn Stutter Spirit of the Fringe award and has been nominated as one of the 4 best MC's in the entire country.
Barry is the co-Founder of Angel Comedy and The Bill Murray Comedy Club in Islington. The clubs and venues put on over 60 shows a week, and pay over 2000 comedians a year. 
"So funny someone should call a paramedic"
- The Guardian
"Comedy Genius"
- The Metro
"Unnecessarily sadistic"
- Chortle
Katie Pritchard is an award-winning Comedian, West End Actress, and a Musician (who plays way too many instruments for her own good)! She also podcasts and has created two shows for your earbuds: "Katie Pritchard's Literally Comedy" and "The Farce And The Spurious", both incredibly silly and wonderfully fun to make! She runs her own comedy club - My Mates' Jokes Bring All The Folks To The Yard, been shortlisted for the Chorts! Shorts competition, has written for hit show NewsRevue, written for parody magazine Succubus and ran an own award-winning production company!
"Inventive and hilarious"
 - Broadway Baby
"Katie Pritchard is a veritable Sizewell B" - 
Chortle
"Fantastically weird"
 - Femedy
"Bags of charm...there is no denying she is a star of the future" - 
Notts Comedy Review
Friday 28 February 8pm
Tickets
£12.50