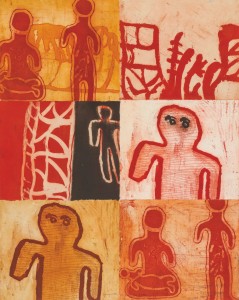 The Aboriginal tribes of Australia are the longest surviving continuous culture in the world and the oldest population of
humans living outside of Africa. They came to Australia around 60,000 years ago.
Aboriginal art tells their stories with signs and symbols used by the indigenous people for thousands of years. it is a record of their sacred Dreamtime - the creationist myth for the Aboriginal people - knowledge of plants and animals, as well as maps of their lands.
in the 1960s, the government at papunya controversially resettled five desert tribes. They were the Pintupi, Loritja, Warlpiri, Aranda and Anmatjira. There was much rivalry, but the common thread of painting helped bring the tribes together.
A Teacher, Geoffrey Bardon, recognised the importance their art and encouraged the senior men to record their work permanently - first on boards, then on canvas. Before then, most indigenous art was drawn in the sand, painted on the body or inscribed on barks and weapons.
The new works were sent to Alice Springs, the capital of the outback, where demand for them grew. Others joined the papunya artists from Balgo hills, Turkey Creek, Yuendumu, Utopia and Lajamanu and together they formed the first truly indigenous art movement in Australia since settlement.
This was the beginning of modern Aboriginal art whose success has strengthened Aboriginal communities at home and is now appreciated worldwide.
There will be a talk by Nadia Phillips, exhibition Curator, at 7pm on Thursday 13 February.
Wednesday 5 February – Sunday 1 March
Free Admission