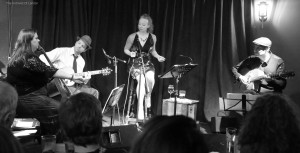 Airlie Scott- vocals, Shirley Smart- cello, Andy Ruiz Palma- guitar, Peter Michaels- guitar
Established London-based jazz musicians present a hot jazz sandwich of french chanson, gypsy jazz tunes, Latin and early vintage swing. 
Accomplished Jazz Singer Airlie Scott is back at the Riverhouse on Valentine's Day with her latest band, a hot jazz sandwich of French chanson, gypsy jazz tunes, Latin favourites and early vintage swing.  Airlie Scott (Pronto Swing) on vocals together with cellist Shirley Smart (Melange), a jazz/world music specialist who has been described as "one of the best improvising cellists in the UK..." The JazzMann, plus the fiery but melodic playing of hot jazz guitarist Andrew Ruiz Palma (La Bouche Manouche, Bright Stars of Jazz) and guitarist/composer Peter Michaels (Pocket Caravan, Melange,The Matzoh Boys, Bhavaini) who's playing style is influenced by classical, flamenco, folk and jazz influences. 
Sunday 14 February, 1pm
VIP live Tickets:
£18 (please note these are available according to the covid relulations at the time, please book in family/support bubbles only to enable us to seat you safely)
Live Stream:
This link will be posted nearer the time with details of how to donate.