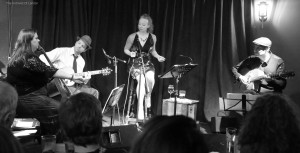 Airlie Scott - vocals, Paul Malloy on double bass, Andy Ruiz Palma - guitar, David Ahmed - guitar and Alice Mary Jelaska on clarinet/backing vocals.
Accomplished Jazz Singer Airlie Scott is delighted to finally be back from touring to play at the Riverhouse Barn with her beloved Hot Jazz Vagabonds' band, a hot jazz sandwich of French chanson, gypsy jazz tunes, Latin favourites, early vintage swing and exciting originals.  Airlie Scott (Pronto Swing) on vocals joined by the melodic playing and captivating vocals of clarinetist and singer Alice Mary Jelaska, hot jazz player Paul Malloy on double bass, plus the fiery but melodic playing of hot jazz guitarists Andrew Ruiz Palma (La Bouche Manouche, Bright Stars of Jazz) and David Ahmed (well known on the London gypsy jazz and vintage dance circuit.
Jazz Vocalist and actress
Airlie Scott
recently returned from touring Europe in Hamlet is delighted to be back gigging again with the Hot Jazz Vagabonds after this unusual past year! Alongside her other band, Pronto Swing she plays for vintage dance events, at London jazz clubs, functions and recently at the Edinburgh Fringe. She has also sung regularly with various London based jazz combos the Mardi Gras Jazz Band, the Julian Cowie Quartet and others. (
www.prontojazz.com
).
Saturday 13 November, 8.30pmTickets
£15
Their performance will also be live-streamed
here
, and there will be opportunities to donate during the performance.