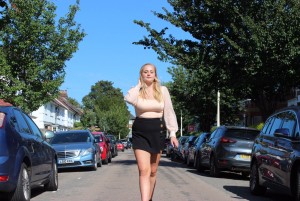 Willow May Murray
started singing at seven years old: her young voice hitting the dizzying high notes. Since then, there's been a musical theatre phase and pop covers phase. In the last couple of years, Willow May has come to refine her own musical style. With her sultry voice and the sophisticated song writing, she sings of murder, passion, and rage.
Her bop, 'Bye Bye Baby' will play over and over in your head (in a good way!) long after she has stopped singing. The lyrics of 'Shadows in My Mind' will give you a chill, as she tells of voices in her head and monsters in her bed. Willow May isn't afraid to belt or snarl: the pure impressiveness of her singing voice is hard to ignore.
Accompanied by Al Murray (yes; the Al Murray) on drums and Bruce Hazelton on everything else! 
Tickets
: £10
Saturday 6 August 2022 - 8pm concert (doors open 7.30pm)