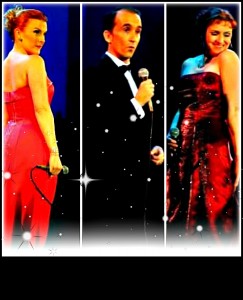 ****PLEASE NOTE****  Following the latest weather forecast, this event has been moved to Saturday 29 August at 7.30pm. If you have a ticket, it will be valid for Saturday. If you can no longer make it, please email boxoffice@riverhousebarn.co.uk to process a
refund.
we apololise for any inconvenience.
Ruby, Kitty and Mackey welcome you to the Lockdown Lounge - Outside Under The Stars! Whilst the lounge will look suspiciously like The Riverhouse Barn Car Park - the entertainment will transport you away and beyond our troubled times, to a star-spangled musical world where the likes of Frank Sinatra, Bobby Darrin and Judy Garland weaved their magic...  
Are you ready to be swung?!
Things to note:-
1. The Lockdown Lounge will be in the car park at Riverhouse Barn Arts Centre KT12 2PF. Because of this, there is no space for parking and limited space in streets surrounding the venue, so if you're local, please consider walking or cycling. If you need to drive, we suggest parking at Cowey Sale by Walton Bridge and walking down the Thames path by the river, which is a 5 minute, very scenic stroll!
2. Entry will be from 6.45 and the show will start at 7.30pm
2. Tables and chairs will be spaced to comply with social distancing guidelines. A maximum of six people from different households can to sit together, so tables will be assigned per group booking. You should remain in that group for the evening.
If you have booked individual tickets but want to sit with others, please email 
boxoffice@riverhousebarn.co.uk
 and we will endeavour to place you together, but please be aware that this may not always be possible.
3. Our fully licensed bar will be open, but table service only will be in operation. Contactless payment only please. No cash payments. There will be a fifteen minute interval between acts to replenish drinks.
4. The shows will go ahead unless the weather gets so bad it makes it dangerous to continue. It's English weather, so bring sun tan lotion, a brolly and a stylish anorak!
Friday 28 August 7.30pm
Tickets
£13.00
Note: This performance has limted tickets, so we will be live-streaming and ask for donations to help us meet the costs of this performance. Register to view live: 
https://riverhousebarn.co.uk/sing-that-swing/
 donations at: www.virginmoneygiving.com/fund/singthatswing