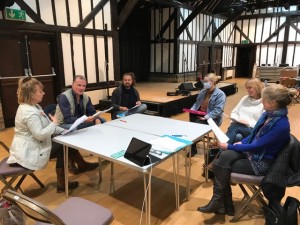 Riverhouse New Writing Rehearsed Playreadings
Socially distanced audience
Riverhouse's resident company of actors present a selection of new writing, performed as 'rehearsed readings' in front of a live audience.
Pieces being performed include 'The Wrong Arm Of The Law' by Paul Byrne, 'Chest Pains' by Gemma Aston, 'Pictures of Health' by David Lawrence and Canaletto & Turner by Graham Collier.
There will be a Q&A after the performances and we encourage audience feedback to the writers.
Wednesday 30 June, 7.45pm
Tickets FREE (suggested donation of £5 on the day is appreciated)
(socially distanced in the barn)
The evening is supported by