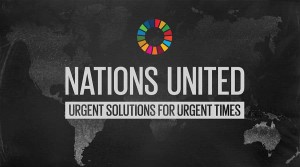 Thursday 4 March 7pm Film Watch Party
Nations United (dir Richard Curtis)  - Urgent Solutions For Urgent Times, featuring activist Malala Yousafzai and stars including Beyonce, Thandie Newton, Forest Whitaker, Don Cheadle and Burna Boy. 
Setting out the steps the organisation says need to be taken to tackle the world's biggest issues, Nations United, which has been directed by filmmaker Richard Curtis, marks the United Nations' 75th anniversary, as well as the fifth anniversary of the 17 sustainable development goals being set up. The film provides a moving and inspiring blueprint for a fairer and greener future for planet Earth.
Watch the film and join us afterwards to share your thoughts.
Click here to register