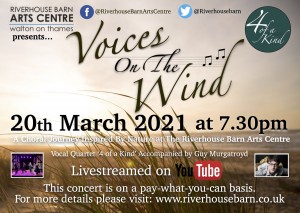 A Choral Journey Inspired By Nature 
About 4 of a Kind… 
4 of a Kind was set up in 2020 by four friends longing to make music after not being able to for so long. 2020 saw all amateur and professional music making come to a halt as Covid-19 swept across the world. Nearly all of us teach and have run amateur choirs, these were all moved online. When we first performed together we had not had a live music event for over six months! For musicians to have not made music for so long is a rarity! We were determined to come together and perform for all our friends, family, choir members so they can enjoy live music once more. 
The singers that make up 4 of a Kind are Hilary Cronin (Soprano), Laurel Neighbour (Alto), Richard Robbins (Tenor) and Jonathan Kilhams (Bass). We sometimes upgrade 4 of a Kind to 5 and welcome the hugely talented Guy Murgatroyd to accompany us. 
What to expect at this concert… 
This year has seen people reconnect or even connect for the first time with the great outdoors and all that nature has to offer. We have a new appreciation for our natural world and how sometimes it can be taken for granted. "Voices on the Wind" celebrates nature in all it's glory weaving through different genres covering everything from Mendelssohn right through to E.L.O!! With no socially distanced audience allowed yet, 4 of a Kind will make full use of the barn and will perform in different positions to celebrate the beauty that it is. The concert should last about an hour and a half without an interval so make sure you have a glass of your chosen tipple to hand and are set up for the evening. We look forward to welcoming you on the evening. 
Vocal Quartet '4 of a Kind' Accompanied by Guy Murgatroyd
Saturday 20 March, 7.30pm - Livestreamed on YouTube
This event is run on a donate to view basis:
virginmoneygiving.com/fund/voices
Register here:
https://riverhousebarn.co.uk/4-of-a-kind-voices-on-the-wind/