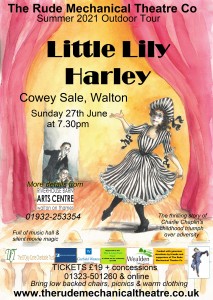 The thrilling story of Charlie Chaplin's childhood triumph over adversity.
'Little Lily Harley' is about Charlie Chaplin's childhood in Lambeth. With a drunken but charismatic actor father who was rarely around & a beautiful young actress mother who had three children by different fathers, he had to learn along-side his big brother Sydney how to survive a very precarious existence. Sometimes cared for by other people, sometimes in a disciplinarian school for orphans & destitute children, sometimes separated from Sydney & sometimes living on the street (as a child!), he nevertheless managed to triumph over all this to become arguably the greatest film actor ever.
Hannah Chaplin, his mother (stage name 'Little Lily Harley' – & the play is as much about her), taught Charlie how to go, as we call it, 'though the little door' into his imagination. Here he could dream & be anything, rehearse the characters he met, especially their walks, & escape from his pain. She taught him this especially when she had to go away, sometimes into the workhouse & sometimes into mental institutions as she lost grip of reality, so that he didn't miss her. By aged five when she had a memory lapse on stage at the Aldershot barracks in the canteen, he took over & won the audience back.
"When I wrote this play in 2019, I could not have known how apt it would be for today. The message of hope & triumph over pain, through the imagination & laughter, is really important for today because people are desperate to see theatre, escape for a while & feel what hope can mean. That is why we must do it!" (Pete Talbot – Writer & director).
In the meantime…
We will leave you with the poem that ends the first half of the play. Hopefully you will be able to understand the Cockney accent! It's Charlie's 'muvver' entreating her boys to stay strong, a message for us all at the moment.
When storms an' tempests moan an' crack,
When billowin' winds blow bleak an' black,
An' 'obgoblins an' beasties squeal
So 'ardened men in terror reel,
An' rattlin' squalls break limbs from trees
          An' 'earts… that are so dear to me!
When governments, aufori'ies,
An' well-meant schemes, false chari'ies,
Drive the poor darn t' their knees
An' do it wiv impuni'y! –
When actions wound an' words concuss,
An' people start desertin' us,
Pray tha' they don't, f' pi'y's sake!
But if they do, we… will… no'… break!
And one final little treat to keep you going!
But don't forget, the 'The End' in this clip is not the end, just a new beginning! Click here 
Learn more about The Rudes
If you would like to learn more about us & our work then…
Take THE TOUR– Click here to start
Book through: www.therudemechanicaltheatre.co.uk or call 01323 501260