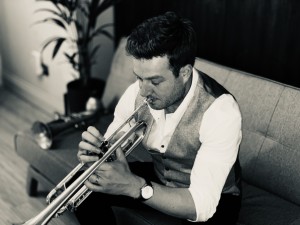 Riverhouse is thrilled to present our Outdoor Summer JazzFest!
Join us for a great day  - we have a fantastic line-up of Jazz luminaries for you:
1pm - Jim Mullen Organ Trio
Jim Mullen - Guitar
Mike Gorman - Organ
Tristan Mailliot - Drums
Jim Mullen is a multi-award winning guitarist with a unique jazz style and sound, who is regarded as the high priest of the instrument by most young jazz guitarists. His quartet was in existence for six years from 1996 and is one of the most powerful ever to appear on the British jazz scene. Mullen has also played and recorded with, among others, Mose Allison, Hamish Stuart, Joanna Eden, Tam White, Claire Martin, Mike Carr, Jimmy Witherspoon, Dave O'Higgins and Georgie Fame, Sinan Alimanović, David Tughan, Jimmy Smith, Terry Callier and Frank Holder. Mullen has recorded as part of The AllStars, a collective of session musicians on their Paul McCartney-produced album All About the Music, alongside special guests Jocelyn Brown, Hamish Stuart and Angelo Starr.
Mullen has won many British music awards including "Best Guitar" in the British Telecom Jazz Awards (1994, 1996 and 2000)
3pm: Sara Dowling Quartet
Sara Dowling - Vocal
Ross Stanley - Piano
Dario Di Lecce - Bass
Steve Brown - Drums
"Sara is now a real force of nature within Uk jazz with surely a great future ahead of her" - Jazz Views
Sara Dowling was voted best vocalist for the British Jazz Awards 2019 and often guests with the Ronnie Scott's All Star Band.
Sara is a jazz singer who is deeply inspired by the repertoire of the classic American songbook, her most important influences are Betty Carter and Sarah Vaughan. The fabulous fearlessness with which she approaches the act of singing, the burning conviction, the irresistible communicative power and jaw-dropping musicality she brings to it makes Sara one of the UK's leading Jazz vocalists.
Sara forged great musical partnerships with Ross Stanley, Dario Di Lecce and Steve Brown who will feature in in this concert as well as her new album. Expect a fierce delivery of her composition 'Phoenix From The Ashes' and her arrangement of 'Bluebird of Happiness' which best describe the overall concept behind her coming album 'Right Now', out later this year. She especially draws upon classical harmony merged with a daring post-bop rhythmic texture.
Sara has performed in some of the UK's most prestigious jazz venues and Festivals (Ronnie Scott's, Barbican, Buxton International Festival, Swanage Jazz Festival) as well as headlining Festivals in Italy, France and Hungary. 
5pm Graeme Flowers Quintet
Graeme Flowers - Trumpet/Flugelhorn
Patrick Clahar - Saxophone
Terence Collie - Keyboards
Pete Billington - Bass
Pat Illingworth - Drums
London based trumpet player Graeme Flowers, has toured the world with artists as diverse as Kyle Eastwood and Kylie Minogue. He has performed on, and written music for three Clint Eastwood movie soundtracks, and played at all the major jazz festivals and jazz clubs in America, Japan, Europe, Indonesia and South Africa. Graeme has recorded with Simply Red , Joey Negro, The Sunburst Band, Moloko, Brenda Russell, The Go Team, Katie Melua and The Feeling. He had also performed on TV, and live, with Quincy Jones, Michael Buble, Duran Duran, Carleen Anderson, Deodato, Tom Scott, Jamie Cullum, The Brand New Heavies, The James Taylor Quartet, The Herbaliser, Tony Hadley, ABC, Jools Holland, BBC Big Band, Cubana Bop, Saravah Soul, Manu Kache, Domonic Miller, Snowboy, Pandit Danesh, Lokkhi Terra, Matt Bianco, Down to the Bone, and many more.
At this festival, Graeme is performing with some of his favourite musicians including saxophonist Patrick Clahar (Icognito). He will be playing the music of Roy Hargrove, Marcus Miller, Freddie Hubbard and The Brecker Brothers.
Tickets (Live Performance Outdoors at Riverhouse): 
Standard £30, £25 concessions (OAP, students and children 13 and above), £10 (children 12 and under)
Entry to Riverhouse Festival area from 12:30pm.
Our Bar will be serving a selection of wines, craft beers, and other refreshments and The Community Cafe will be serving sandwiches, cakes and teas and coffees. 
Donations (Live Stream Performance):  
Donations to our Covid Appeal are requested in return for watcing the live stream - and a link to register for the stream will be available shortly - watch this space! 
Notwithstanding current circumstances, Riverhouse remains committed to showcasing musical talent through live performances and we look forward to seeing as many of you to enjoy a truly outstanding jazz event.
THINGS TO NOTE:  
Parking for Blue Badge holders only: Blue badge holders can email donna@riverhousebarn.co.uk to book a space.  Where possible, other guests are encouraged to walk or cycle to Riverhouse; there will be some limited parking at Cowley Sale.
We invite you to bring your festival chairs, blankets, small tables; there will be marked seating areas. 
Sunday 15 August - Doors at 12:30