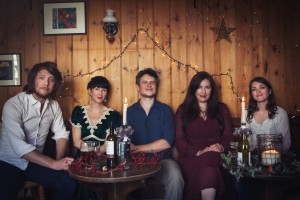 "It's an early Christmas treat and a perfect seasonal music present!"
Laurel Canyon 
Now in its 7th year
A Winter Union
is a festive folk band like no other. From five leading lights of the British Roots scene, expect soaring vocals and exquisite musicianship as the band delight with a repertoire of folk songs from across the yuletide traditions. Glorious wassails, fresh arrangements of traditional carols both well-loved and little-known, and original songs heralding the joys of the season.
Hannah Sanders & Ben Savage, Katriona Gilmore and Jamie Roberts
(3 times BBC Folk Award nominees Gilmore & Roberts) and
Jade Rhiannon
(The Willows) are excited to roll out their stunning festive show. These songs are stirred together with such beautiful 5-part harmonies, accompanied by dobro, fiddle, mandolin, dulcimer, guitars a-plenty, and a shruti box thrown in for good measure.
"Hugely talented… a stunning festive set"
- Folking.com
"Impressive… a folk supergroup"
- Northern Sky
Gilmore & Roberts
***** R2
'Hot property'
fRoots 
The Willows
"Absolutely gorgeous. Tender, delicate and very beautiful music"
Bob Harris
Hannah Sanders & Ben Savage
"An exquisite soundscape, which is the result of passion, precision and unbridled intimacy'
*****R2 Magazine
Sunday 12 December - 12.15pm (indoors)
Tickets: 
£13