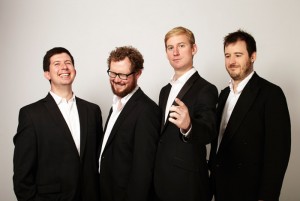 The Hot Club of Jupiter was formed to provide the music for the 2013 Renault Clio online ad campaign and continues to play as an ensemble, drawn together by a shared love of the music of Django Reinhardt and Stephane Grappelli.  
In April 2021, The Hot Club of Jupiter proudly launched their second album, 'Vs London', a collection of standards and originals written about their home city with a live streamed gig from the London Transport museum.
The band had realised that much of their repertoire, drawn from both the American songbook and music hall tunes (favoured by Stephane and Django), had a direct connection to the city where they perform. In this new album, they set out to explore the rich history of London as a home and inspiration for musicians. 
Kit Massey: violin, piano, keyboards, vocals
Jon Shenoy: clarinet, bass clarinet
Christian Miller: guitar
Rory Dempsey: double bass
Matt French: drums, percussion
Two 45 minute sets, approximatelty 20 minute interval
(if you wish to order food to eat at the interval, please do so before the performance starts)
Sunday 17 October - 12 noon
Tickets
: £15