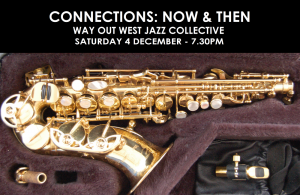 Following the Neil Hamilton Memorial Concert in April 2021 we are moving ahead with a new event: CONNECTIONS, NOW & THEN, which will celebrate Way Out West Jazz
Collective and their unique creativity.
The concert will also celebrate Neil's generous donation to Way Out West to help their musicians during the lockdown and beyond. Neil was very keen to make sure that Way Out
West would be able to continue to flourish and create new work. His donation has been a great help with West Out West's on-going creative output and live performances.
Tim Whitehead, Dave Jones, Tony Woods, Nette Robinson, Gary Willcox and Tom Millar will be performing exciting new original compositions.
The members of the Way Out West Collective will also be joined by special guest Julian Costello (saxophone), and singer/songwriter Mista Blenda who will perform works created with Neil, as well as new material.
WOW Collective:
Tim Whitehead, Tony Woods - Saxes
Nette Robinson - Vocals
Tom Millar - Piano
Dave Jones - Bass
Gary Willcox - Drums
Special Guests:
Julian Costello - Saxophone
Mista Blenda - Vocals
Saturday 4 December - 7.30pm

Tickets: In-person attendance
- £15
Streamed
- donations
Any profit from the concert will go to the St Raphael Hospice.