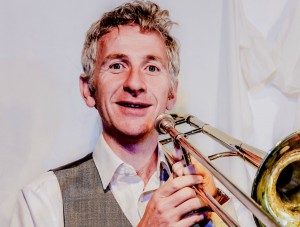 Graham has been leading bands for over 20 years, appearing with them at leading festivals and clubs up and down the country in this time.  He is also in demand as a featured soloist and sideman in many bands, performing with Keith Nichols, The Tuxedo Jazz Orchestra, the Passadena Roof Orchestra, Enrico Tomasso, TJ Johnson and many others.  He also plays the sousaphone, double bass and chromatic harmonica, and is a popular vocalist.  The Sunshine Kings is a band that explores predominantly the music of the 1920's and 30's, although Graham likes to put his own twist on many of the songs, always performing with verve so the music never sounds old or tired.
Joining Graham at the Riverhouse Barn is:
Duncan Hemstock, leading clarinet and saxophone player who came to London from Australia some years ago, and has since been touring the world performing for swing dancers, and appearing with leading swing and jazz orchestras in the UK.  Australia's loss is very much the UK's gain.
Playing the piano is Jonathan Vinten, who toured the UK and the world with George Melly for many years.  Since then has appeared with very many bands who have enjoyed his virtuosity, creativity and lightness of touch evocative of the great swing pianists of yesteryear.
Sunday 19 November 12.15pm
Tickets: £15