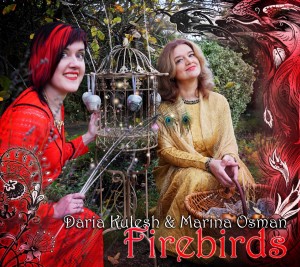 An enchanting evening of songs and stories from Russian folklore to celebrate Orthodox Christmas. Daria Kulesh weaves snow covered tales blending the reality of her Moscow upbringing with beautifully bizarre fairy tales and ancient Christmas customs.

Her performances are refreshing, intriguing and full of passion and magic. Mixing her Eastern roots with Western folk influences, Daria creates an original and exciting sound that is "Bold, exotic, impressive" (fRoots).
Her debut release Eternal Child was described as "phenomenal", her second album Long Lost Home has enjoyed rave reviews and multiple awards, including LCM Album of the Year, and her latest studio release Earthly Delights was named "one of the year's finest albums" by Folk Radio UK. Daria shares stories and songs that are deeply personal but feel universal and timeless. Every performance is an "emotional, compelling and uplifiting experience" (Carn to Cove).



 
"One of the finest voices and one of the most intriguing and interesting songwriters on the present folk scene" (Mike Harding)
"Breathtaking voice. A true star" (Folk Radio UK)
"The songs aren't just sung, but lived" (FATEA Magazine)

Sunday 9 January 2022 - 12.15pm
Tickets: £13

The show will feature the wonderful pianist Marina Osman - native of Belarus and recently named Folking.com Musician of the Year.
Daria and Marina, also known as The Firebirds, are a unique combo, offering a fantastic variety for every listener regardless of their language and cultural background.
Expect plenty of authentic Russian flavour, superb musicianship and heaps of heartfelt, infectious energy.