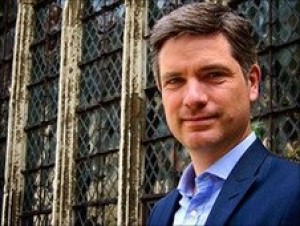 Anne of Cleves, fourth queen of Henry VIII for six short months in 1540, is chiefly remembered through Holbein's charming portraits and a number of unflattering aspersions that justified the king's divorce. But she was not one of the queens who were executed. Granted numerous properties and called "the king's sister", she lived a further 17 years until her death and burial in Westminster Abbey. Just a few years ago, a series of remarkable encounters threw much new light on her life and legacy.
Dr Jonathan Foyle was a Curator of Historic Buildings at Hampton Court for eight years, and took his PhD on reconstructing Cardinal Wolsey's palace. Having headed a heritage charity for eight years, he now lives in Somerset. A frequent writer for the Financial Times on issues of architecture, history and craft, he has written monographs on four English cathedrals: Canterbury, Lincoln, Lichfield and Peterborough. He is presently writing a book on Windsor Castle. The presenter of numerous television series including BBC4's oft-repeated
Henry VIII: Patron or Plunderer?
and Channel 4's recent
Restoration of the Year
, his favourite sport is discovering the origin and meaning of historical objects.
This lecture is in memory of Gordon and Pat Chubb.
Thursday 12 October, 7.30pm
Tickets £12 (£10)