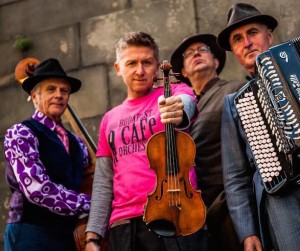 CHRISTIAN GARRICK – violin, darabuka
EDDIE HESSION – accordion 
KELLY CANTLON – double bass 
ADRIAN ZOLOTUHIN – guitar, saz, balalaika, domra
Led by jazz violin superstar Christian Garrick the Budapest Café Orchestra play folk and gypsy-flavoured music from across the Balkans and Russia, mournful Klezmer melodies, raucous Romanian Doinas and Hungarian Czadas. Evoking vivid images of Tzigane fiddle maestros, Budapest café life and gypsy campfires -  plus a few surprises along the way -  a show by the BCO is good enough to make you want to book that holiday down the Danube! 
Hugely entertaining, immense skill and profound musicianship. They have won acclaim from fans, fellow musicians and critics alike for their electrifying and entertaining shows. They're hard to describe, you just have to see and hear them. The Budapest Café Orchestra is as fantastically exciting as it is musically impressive. Jazz violinist Christian Garrick leads from the front as the BCO journey far and wide across the Balkans and Russia, Klezmer, Romanian Doinas, Hungarian Czardas. This is no simple Tzigane tribute band - expect surprises, diversions and adventures along the way.
Don't let their trilby hats fool you, these are serious musicians, with two of the country's most revered international soloists nestled at the heart of proceedings. Exemplary accordionista Eddie Hession has accompanied the likes of Luciano Pavarotti, Placido Domingo, Jose Carreras and Chris Rea and is a supreme squeezebox champion of Great Britain. Christian Garrick is one of Europe's most celebrated jazz violinists and his CV boasts Dame Cleo Laine & Sir John Dankworth, Wynton Marsalis, Nigel Kennedy and Duffy.  Adrian Zolotuhin is our Russian representative on domra, balalaika and guitar and buff recording engineer besides.  Veteran bass-man Kelly Cantlon is a former Vagabond, of Jimmy James and the Vagabonds, and chief orchestra charity clothing expert.  
"The music is magic in their hands"  
Sean Rafferty BBC Radio 3
"Back by popular demand, the fiery vivacity and awe-inspiring musicianship of the finest purveyors of Eastern European gypsy music this side of a Lada scrap heap will leave you with a grin on your face and rhythm in your feet…"  
Times
Friday 22 October - 8pm

Tickets
£17 (£15)
You can read our updated Covid-19 policy
here