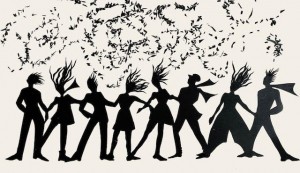 Wednesday 24 November to Sunday 5 December
Opening times: 10am to 4pm
Coming together, whatever the weather, outside on walks was the only way to stay connected during much of 2020 and 2021.
Being able to see friends and family, or just being able to go to the theatre and many other getting together events is celebrated in this exhibition by Patsy Fraser.
The exhibition consists of many cut out silhouettes and their shadows which are thrown against the gallery walls. Shadows are often thought of as the less tangible side of a human being, perhaps the quintessence of a persons character. So in this exhibition shadows are used to exaggerate the emotional and longed for coming together of the community.
As the exhibition progresses, the community are invited to contribute their own silhouettes and it will gradually transform into our 'Snow Queen' themed Christmas exhibition. For workshop information see 
Riverhouse (thelittleboxoffice.com)
Admission FREE
No need to book