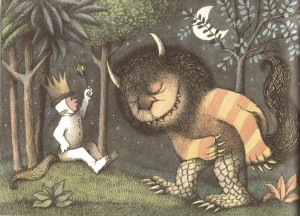 Bring a cushion and a cuddly toy to our creative storytelling events. Enjoy crafty projects, themed activities and a teatime treat - the perfect afternoon outing for families with small children.
28 January –
Charlie Cook's Favourite Book by Julia Donaldson and Axel Scheffler
Charlie Cook was reading his favourite book about a pirate and th epirate was reading a book about Goldilocks and Goldilocks was reading about Sir Percy Pilkington and Sir Percy Pilkington was reading a book...
18 February - Where the Wild Things Are by Maurice Sendak
Max was behaving like a 'Wild Thing', so his mother sent him to bed without any supper. Max didn't mind - he was off on his adventures, but he did start to feel hungry...
3.30pm
Tickets
£4 per child (£2 under 2) –
includes themed teatime treat and drink
Most suitable for ages 3+