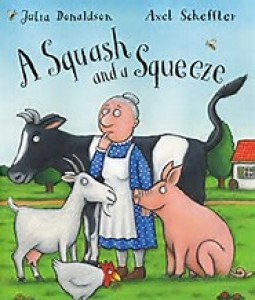 Bring a cushion and a cuddly toy to our creative storytelling events. Enjoy crafty projects, themed activities and a teatime treat - the perfect afternoon outing for families with small children.
24 September –
A Squash and a Squeeze by Julia Donaldson and Axel Scheffler
"Wise old man, won't you help me, please? My house is a squash and a squeeze."
​"
A bit of a classic... A goat on the bed and a cow on the table tapping out a jig? My readers collapsed in heaps and then had to have it read again. And again." –
Vivian French in The Guardian
26 November –
Mrs McTats and Her Houseful of Cats
"In a small cosy cottage
Lived Mrs McTats.
She lived all alone
​Except for one cat.
​But soon by twos and threes, and then four and more,
New cats come scratching at Mrs McTats' door..."
3.30pm
Tickets
£4 per child (£2 under 2) –
includes themed teatime treat and drink
Most suitable for ages 3+