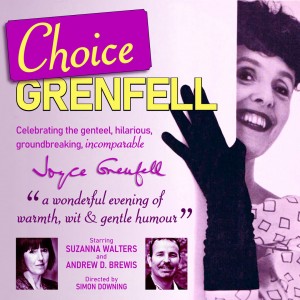 Top Flight Productions presents
Choice Grenfell - A Tribute to Joyce Grenfell
Choice Grenfell is a full length show celebrating the life of Joyce Grenfell during the 40th anniversary year of her death.  The show will provide a completely unique view into the life of Joyce Grenfell through the eyes of her much respected friend and Musical Director, William Blezard. Starting with a depiction of a rehearsal in Act 1 and then segueing into the full performance in Act 2, Top Flight Productions are delighted that the family of William Blezard have allowed access to previously unpublished rehearsal recordings and personal letters from Joyce Grenfell, allowing a unique insight into the queen of comediennes. 
The show features some of the best of Joyce's delightful songs and monologues from "Stately as a Galleon" and "School Nativity Play" to "A Terrible Worrier" and "First Flight".
Joyce is our guide for a delightful delve into some of her most delightful characters, ably accompanied by her trusted pianist. As Joyce would have said "We request the pleasure of your company" in the company of one of Britain's best loved comediennes.
Act 1 – The Rehearsal
Joyce and William arrive as if they are turning up at an empty theatre for a rehearsal before the performance. As Joyce rehearses songs and monologues, the dialogue between the characters provides the opportunity for us to learn about Joyce Grenfell's life, the type of lady she was and her relationship with William Blezard, her longstanding and trusted pianist and Musical Director. The dialogue for this act has been written by acclaimed playwright Simon Downing using extensive material kindly provided by the family of William Blezard.
Act – 2 The Performance
The second half of the show is the performance! The stage is now set, make up is on and the audience are now given the full Joyce Grenfell performance.
"Beautifully adapted for the stage"
"Treat yourself to an evening of magical mirth and music, a wonderful celebration of humanity!"
"Andrew Brewis's practical musical prowess, as William Blezard, sitting at the keyboard is masterly. Suzanna Walters gives us the perfect Joyce, of fondest memory, with uncannily accurate facial expressions, movement and posture. Like Joyce herself, the voice is not loud, but the diction is perfect."
Saturday 19 March 2022 - 7.30pm
Tickets: £15