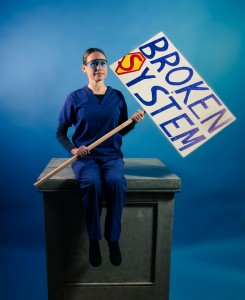 Florence Nightingale was a campaigner and reformer whose pioneering use of statistics called for government accountability and equal access to healthcare for all. This one-woman-performance of original song and storytelling shines a light on lesser known aspects of Florence Nightingale's life and work, to question why Florence's extraordinary and wide ranging achievements are so often overlooked.
Florence Nightingale spent less than two years as a nurse in the Crimea, yet she lived to the age of ninety. She spent decades campaigning for social reform worldwide, advocating equal access to healthcare for all and become an expert in areas such as land irrigation, hospital design and postal services for soldiers in order to advance her causes.
'Florence: the lesser known life and legacy of Florence Nightingale' was researched and written 2019-2020, to celebrate the 200th anniversary of the birth of Florence Nightingale. The show explores Florence's work as a pioneering statistician, social reformer and political influencer through original song and storytelling.
This dynamic performance celebrates Florence as a ground-breaking statistician, connecting Florence's work in the 19th century with the issues we continue to face in 2021.
Run time 60 minutes, no interval.
Sunday 13 March 2022 - 7pm
Tickets: 
£12
Louise Jordan lives in the New Forest and is a songwriter and performer with ten years' experience touring the UK & Europe. Self-accompanied on guitar and keyboard, Louise is a former secondary school teacher with an MA in Human Rights and has released six recordings gaining national radio play on the BBC Radio 2 Folk Show & Radio 4.
"Art and history combined to make great entertainment that also educates... a great show... I whole heartedly commit it to you, as a good night out."
FATEA Magazine, 2021
"Absolutely stunning. Powerful, personal, connecting, education. Lyrical and highly professional. A tour de Force."
Wingates Village Institute, July 2021
"Very entertaining and thought provoking - a really unique experience"
 Shap Memorial Hall, July 2021
Credits for Florence
Dramaturgy – Emily Souter-Johnson
Sound design – David Lewington
Supported using public funding by Arts Council England
With support from Wiltshire Creative's Engine Room & Lighthouse Poole