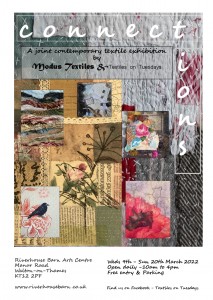 Wednesday 9 March - Sunday 20 March 2022.
Open every day 10am - 4pm. Admission free.
'Modus Textiles' and 'Textiles on Tuesdays' present their joint exhibition.
'Textiles on Tuesdays' and 'Modus Textile's are contemporary textile groups who meet regularly to share and experiment with new ideas.
Each of the 14 artists has their own unique style and work in their own individual way, producing a diverse range of eclectic innovative creations.  Members explore their own interests in their preferred medium which includes hand stitching, machine embroidery, collage and mixed media working with textiles and paper.
The latest exhibition is entitled 'Connections' and reflects each artist's interpretation of this theme.