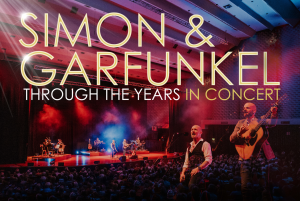 Seventh Avenue Arts presents:
Simon & Garfunkel Through The Years
Critically-acclaimed as one of the world's greatest tribute shows, Simon & Garfunkel Through the Years continues to delight audiences across the globe. Featuring stunning vocal harmonies from world-class musicians, this spectacular concert transports you on a journey through the epic songs and history of the much-loved Simon and Garfunkel.
The show is a celebration of the unprecedented rise to fame of two boys from Queens, New York, who went on to become the most successful folk-rock duo of the 1960s, selling 38 million albums in the US alone, and receiving 10 Grammy Awards. In 1981, they performed to over half a million people in their hometown of New York, and in 1990 were inducted into the Rock and Roll Hall of Fame.
Fronted by Dan Haynes and Pete Richards, the show is a "masterpiece" (BBC Radio) in musicianship, which perfectly recreates the unmistakable sound of Simon & Garfunkel.
Featuring all the iconic songs, including The Sound of Silence, Mrs Robinson, The Boxer and the smash hit Bridge Over Troubled Water, this live concert experience is without a doubt the most authentic tribute to Simon & Garfunkel touring the world today.
"A masterpiece"
- BBC Radio
"One of the greatest tribute shows anywhere in the world"
- Stuart Cameron, BBC and ITV Broadcaster
www.simonandgarfunkelthroughtheyears.com
Sunday 15 May 2022 - 7pm
Tickets: £16