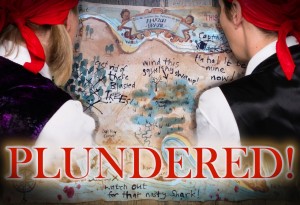 Really Big Pants Theatre Company presents:
PLUNDERED!
by Joe Bromley and Willow Nash
Whilst searching for hidden treasure, a famously selfish pirate captain has left a once beautiful tropical island littered with rubbish and its inhabitants struggling to survive. It's up to Maggie and Roy to save it. The trouble is… they're REALLY not friends. Teleported from their school trip at a maritime museum into the centre of a swashbuckling adventure in the Amazon, will they learn to work together, win the race to find the legendary gold – and restore the place to its natural glory?
Can YOU help us defeat this dastardly litterbug pirate…?
And come dressed as a fearsome member of his crew if ye dare! Arrrrrrr!
Watch the trailer here!
https://youtu.be/ZFW6DCAiSbw
"Absolutely amazing!!!!" - 
10yo, Courtyard Arts Centre
"Spellbound from the start… it's thoroughly entertaining, but there's also a strong educational aspect… performed with infectious energy and enthusiasm"
- Theatre Things
"FANTASTIC.  Funny, educational and engaging – a great hour for the kids"
- Parent, Chiswick Book Festival
Really Big Pants is a theatre company specifically for primary-aged children. Their shows are fast, fun, inspirational, educational, interactive, inclusive - and downright brilliant entertainment. They have been inspiring and entertaining children in theatres, arts centres, libraries, museums, schools, and at literary festivals all over the place, and they'd love to share their stories with you too.
www.reallybigpants.co.uk
Thursday 17 February 2022 - 2pm
Duration: 55 minutes
Tickets:
£10 (child)
£12 (adult)
Family ticket of £25 for one adult and two children
A family show for ages 5 - 11