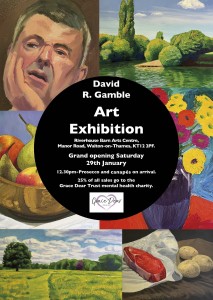 12.30pm - 2.30pm
Saturday 29 January 2022 
The Mayor and Mayoress of Elmbridge will be opening the 2022 exhibition of local artist, David Gamble, which will be held at the Robert Phillips gallery at the Riverhouse Barn. 
Come along to meet him and see his work. Free prosecco and canapes will be offered on arrival. No need to book. 
View details of David's 2022 exhibition here 
Riverhouse (thelittleboxoffice.com)