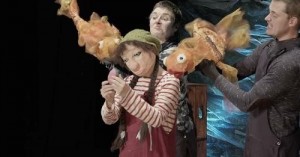 Leah is angry about the world; she is trying to collect all the plastic out of the ocean before it's too late.
Her father says she should spend less time worrying about 'adult problems' and more time trying to make friends. Then one day, Leah finds the best piece of sea treasure ever, a plastic bottle with a mysterious phone number inside. Soon she finds herself in conversation with Ahmed, a boy adrift the sea of humanity in the Calais Jungle. But when the text messages stop, Leah must summon all her courage to build a boat from salvaged plastic and, accompanied by her pet goldfish, a talking rucksack and therapeutic octopus, embark on an epic voyage to find her friend.
Intertwining bold new writing with vivid contemporary puppetry, We Are Not Shellfish is a brave tale about the power of friendship and how it can change our lives.
We Are Not Shellfish combines Sabotage Theatre's vibrant visual aesthetic with a provocative story of protest and rebellion. It asks what one small person can do to save the world. Artistic director Zoe Hinks wrote the play whilst working with The Flying Seagull Project; a charity who bring laughter to families in crisis around the world. She was inspired by how they use joy as a weapon to fight back against apathy and injustice. Adults and children alike are sure to be enchanted by this rollicking, fast-paced adventure with bite.
Watch the trailer here: 
https://youtu.be/gA2oIzUVz2k
Recommended for ages 7+
Saturday 28 May 2022 - 2pm
Tickets:
£10 (child)
£12 (adult)
Family ticket of £25 (for one adult and two children)