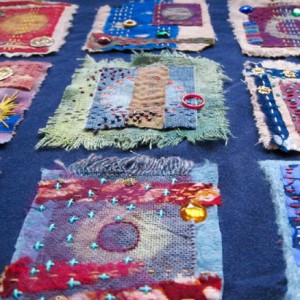 Wednesday 15 - Sunday 26 June
Open daily 10am - 4pm. Free admission.
An exhibition of Stitched textiles and mixed media
Wey Valley Workshop is a group of recognised textile and mixed media artists, whose ethos is to advance the practice of good design and craftsmanship within the context of contemporary textiles following the principles advocated by our founders. Members share a passion for textiles and enjoy the support and encouragement of of working together, meeting for a varied programme throughout the year near Guildford, Surrey. The group exhibits every other year, and the theme of this exhibition is reuse, recycle and repurpose. As well as the exhibited pieces for sale there will also be plenty of opportunity to purchase unframed work by the artists as well as handmade cards and smaller beautifully handcrafted items. The members have a passion for textiles in common, this is expressed in a wide variety of forms and techniques so that visitors to this exhibition will enjoy exploring the many ways in which this theme has been interpreted. They can expect to see a great diversity of work in the type of pieces on show, which may be 3D, clothing, soft wall hangings or framed pieces. Members also use a great variety of techniques ranging from instantly recognisable methods of stitching to very contemporary interpretations, including felt making, quilting and printing to name but a few. While some pieces may appear quite traditional in form, others make extensive use of less conventional materials, which might include all kinds of media from plastic to bones or bits of metal found on the ground and anything else in-between.