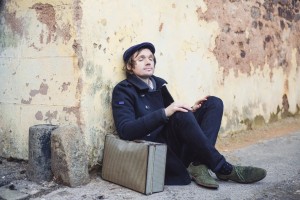 Singer songwriter Tobias Ben Jacob has been called
'uniquely captivating'
by BBC6 Music and
'inventive and thrilling'
by R2 Magazine. His songs are dynamic, poetic and emotionally charged. He has described his work as '
a form of soul cartography.
' His live shows are
'intense and spellbinding'
and deliver '
many a spine-tingling moment.'
BBC Introducing in Devon have called him
'one of our best artists',
making him upload of the week four times.
Tobias is one half of the original alt-folk duo and acclaimed live act
Jacob & Drinkwater.
Tobias will be performing songs from his album
REFUGE
, released in December 2020, a vibrant album of electronica-tinged story-songs inspired by people at the heart of the global refugee crisis.  
Conceived whilst working six days a week as a delivery driver, Tobias dreamed up the entire concept for the record in lay-bys in his Devon hometown, pulling over to jot down lyrics and record demos on his phone. The inspiration for the album came after Tobias made contact with Zekria Farzad, an Afghan refugee and former journalist who had set up the Wave of Hope For The Future School at Moria Refugee Camp, Lesbos. Talking with Zekria and hearing some of his incredible accounts of courage and hope during a hellish struggle to find a place of safety for his family, Tobias set out to try and explore more of these inspiring human stories through his songwriting.
John Elliott of The Little Unsaid is a close friend and collaborator; co-producing the album 'A Polyphonic Life' and joining Tobias live on several occasions. He has been a regular on fringe and green field stages at Glastonbury Festival since 2009. In 2018 Jacob & Drinkwater embarked on their 'Waters Of England Tour' combining live touring with wild swimming across the UK. This was followed by the 'This Old River' album and UK tour in February 2019. Tobias was a showcasing artist at English Folk Expo 2018.  
'Really stop you in your tracks' Fresh On The Net
'Inventive and thrilling' R2: Rock n Reel
'Definitely one to watch out for'  Late Junction, BBC Radio 3
'A fresh and uplifting sound' Folk Radio UK
Tickets:
£13
Saturday 4 June 2022 - 7.30pm