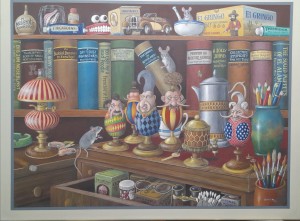 Wednesday 28 September - Sunday 2 October 2022
10am - 4pm
Free Entry
Edwin Cripps, a self-styled 'artist of the absurd' and native of Feltham in Midlesex has had almost 50 years experience at producing his own brand of pictorial lunacy chronicling the many peculiarities of the human condition. Predominant is his depiction of mankind's determination in inflicting self punishment via the process of absurdity with no punches pulled.
No subject is taboo, whether domestic or global: drug and gun crazed Americans, religious fanatics to good old British thuggery. Of late, a particular interest for Edwin is the ageing process. Now in his 70's himself and well aware that wisdom does not necessarily come with age, he shows no respite in depicting the absurdities in the behaviour of older people. Another aspect of his work is the tunnel vision and snobbery within the fine art world summerised in two paintings 'The Maris Piper Academy of Fine Art' and 'The Crapton Gleet Summer Exhibition'.
Edwin's aim is to examine our situation as a species, always with humour, but at the same time looking at our true place in nature.
To quote the late, great Frank Zappa, 'Absurdity is the only Reality'.
Edwin's long term friend and co-artist Anne Whitelock (Dixon) has a very different vision and is exhibiting alonside Edwin as a guest. According to Edwin, the excellence of her work is to be regarded as a welcome contrast.