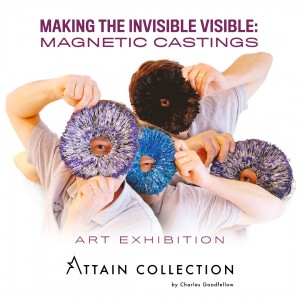 Wednesday 7 September - 18 September 202210am - 4am FREE ENTRYDaily Demos at 3pmGive-it-a-Go at 3:15pm
Fascinated by magnets' invisible force? Now is your chance to explore further.
Charles Goodfellow will share his enthusiasm for this natural phenomena through exhibiting +100 Magnetic Field Castings. See 3D sculptures of magnetic fields frozen in time, Making the Invisible Visible.
Visitors are invited to become part of this unique project through witnessing a Daily Demonstration followed by a Give-it-a-Go tutorial (FREE, normally £15 a ticket). Come down and get involved.
If you find an certain attachment to a Magnetic Castings they will be available to purchase, sequentially priced. You support will allow Charles to continue Making the Invisible Visible.
More info can be found at 
www.AttainCollection.co.uk
PLEASE NOTE THERE WILL BE AN INDUSTRIAL MAGNET OPERATING IN THE GALLERY DURING DEMONSTRATIONS.
SPECIAL WARNING TO PACEMAKER USERS.