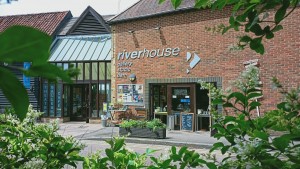 Green Elmbridge,
 together with
Riverhouse Barn Arts Centre,
 will be hosting the
Green Elmbridge Sustainability Fair
this autumn, held here at Riverhouse in Walton-on-Thames, on Saturday 8 October, from 12noon onwards.
Green Elmbridge's fair will feature free to attend talks and demonstrations, involving a wide range of speakers and representatives from the local community, including Elmbridge Borough / County Councils, and stalls promoting local green-minded businesses and organisations.
Green Elmbridge is made up of local climate-preoccupied residents wishing to create and nurture a network of community groups which have an interest in:
• improving the environment and/or carbon reduction.
• sharing information and learning.
• working collaboratively with the Council to amplify impact. Put simply, the aim is to bring people and community groups together, who wish to share environmental awareness and green thinking in Elmbridge, focusing on taking real and practical actions to adapt to the current challenges we face - such as preserving our water and reducing waste.
Talks:
The speakers' programme will start off at 1pm with Keynote speaker Ben McCallan, Senior Climate Officer on Surrey County Council's Green Futures team, followed by Jamie Pourier-Benham, Climate Change officer at Elmbridge BC and others such as Mick Tumilty of Elmbridge ECO Hub.
Speakers Timetable (approximate times):
• 1.00 - 1.30pm 
Ben McCallan
| ZERO Guildford and Surrey County Council | Community Collaboration For Surrey's Future.
• 1.40 - 2.10pm 
Mrs Jamie Pourier-Benham
| Climate Change Programme Lead | Policy and Performance | Elmbridge Borough Council's carbon neutral journey.
• 2.20 - 2:50pm
  Mick Tumilty 
| Walton Eco Hub.
• 3.00 - 3.10pm 
Karen Heynike 
| Elmbridge Tree Wardens | Why become a volunteer tree warden?
Stalls:
•
Ashley School Eco Stall
- making plastic free options more accessible.
•
Sigma Sports Kingston
- From folding electric city bikes to electric cargo bikes, Sigma Sports Electric will be on hand to showcase some of the latest bikes capable of replacing a car in urban environments.Come along and take a bike for a test ride to really experience the feel of an electric bicycle.
•
Ecocentric Us
- offering low cost, packaging free, ethically sourced household & personal care refills.
Remember to bring your empty bottles & choose from a wide selection of refill options!
•
Green Elmbridge
- bringing together people & organisations with environmental awareness and green thinking in Elmbridge.
•
FairPlay Clothing
- Fun comfortable handmade clothing that have minimal environmental impact.
•
Elmbridge Tree Wardens
- volunteer group to support the planting and upkeep of trees in the borough.
•
Riverhouse Hookers - 
crochet group by Merrian Holland - kits for making your own sustainable items.
•
Natural Dyeing & Botanical Prints
 - by Louise Drozdol.
•
Green & Clean
- learn how to make your own natural cleaning products with the Esher Quakers.
• 
Repair Café
- a group of dedicated repair volunteers. Their skills include textiles, bicycles, electrics, electronics, woodwork and general repair.
Members of the Repair Café will be providing a '5-minute fix' service on the day.
• 
Elmbridge Community Eco Hub
- home of the Library of Things, Community Fridge, Skill Share, Small item recycling, Community Garden...and more!
•
Molesey Clothing Exchange
- Helping you to reduce the impact of the fashion industry.
•
Circular Dorking
- business & community led initiative to help create a better planet, local economy & local community for the Dorking area.
•
Green Energy Queen from Utility Warehouse
- information on how to switch to greener energy for your home and business which may also save you money.
• Elmbridge Friends of the Earth
- Information about their "United For Warm Homes" campaign which addresses fuel poverty, the need for a national insulation programme and the failure of the current energy system.
•
Surrey Wildlife Trus
t - With the invaluable support of volunteers and members they care for over 6,500ha of land for wildlife in Surrey. Find out about their work in Elmbridge.
Eco Art Installation :
200 pieces of up-cycled plastic mesh bags have been created into an installation by artist Anita Chanda, who wished to highlight the damage supermarkets are doing to the environment by packaging fruit and veg in plastic string bags. The up-cycled waste became art that connected people after the Pandemic. Harmful material has taken on a different value in a colourful and joyful way giving hope to those who experience it. The Net speaks of strength and fragility, the artist's message is: repair not despair. This colourful Net has many memories. 
Demos:
There will also be a selection of demos on the day including:
• Natural Plant Dyeing with Louise Drozdol.
• Go along to Sigma Sports for a test ride to really experience the feel of an electric bicycle.
• Make your own nature-friendly household cleaning products with "Clean & Green".
• Repair Café - Members of the Repair Café will be providing a '5-minute fix' service on the day.
Saturday 8 October 2022 - 12noon onwards
Free Entry