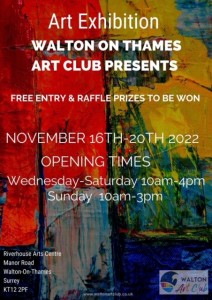 10am - 4pm Wednesday 16 - Saturday 19 2022
10am - 3pm Sunday 20 November 2022
Free admission
Walton Art Club, your local art club, is in its 61st year and will be holding its Christmas exhibition between the 16th and 20th November 2022, in the Robert Phillips Gallery, upstairs at the Riverhouse Barn. Come along and see these different creations, all available for purchase. Large pictures, small pictures, (all framed) prints and cards, so plenty of variety.
Also, we are running a big raffle with some exciting prizes! We look forward to meeting you. On Facebook, Instagram, and our own website, waltonartclub.co.uk