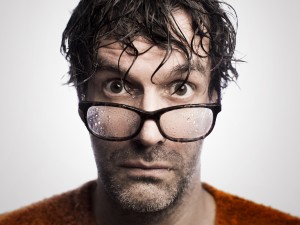 A blisteringly funny stand-up show from multi award-winning comedian Marcus Brigstocke. 'Devilishly Funny' (TheArtsDesk.com). This joyful show celebrates the personal triumphs and small victories of the past couple of years... while acknowledging it has, in so many ways, on so many days, for the most part, been an absolute shower of shit. 'Charming, hilarious and utterly refreshing. Don't miss this incredible show' (Sunday Mirror).

Following an acclaimed, sellout run at this year's Edinburgh Festival, Marcus hits the road with his new show Absolute Shower, celebrating the personal triumphs, small victories and joyful failures of the past couple of years, while acknowledging it has for many of us been an absolute shower of s***.

A few things have changed. He's become a father, again, 19 years after becoming a Dad for the first time. He's graduated as a Level 1 Cheese Master. He's experienced the agonies of bereavement. He's learned to play the trumpet to a very very poor level. He 'broke through' on US TV after his and Rachel Parris' ludicrous Lip Sync Battles exploded online, and even more than ever he feels sure that the right combination of jokes will lead to a change in government.

Marcus Brigstocke is regarded as a major comedy, writing and acting talent, performing stand-up to sell-out audiences on nationwide tours. Yet BBC Radio 4 has become somewhat of a second home to him, with regular appearances on I'm Sorry I Haven't A Clue, The Unbelievable Truth, The Now Show and Just A Minute, and he has written and recorded five series of his hit show Giles Wemmbley-Hogg Goes Off and The Brig Society. He also wrote and directed the award winning play The Red, and co-starred alongside Kerry Godliman in The Wilsons Save The World.

Saturday 1 October 2022 - 8pm
Tickets £15

AGE GUIDANCE: 14+
Likely to be swearing and adult content. children younger than this will not be admitted, even if accompanied with an adult.