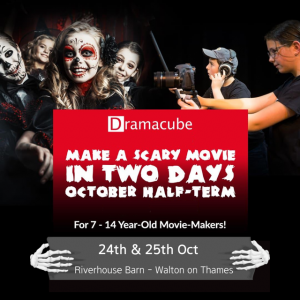 Get creative with Dramacube's 'MAKE-A-SCARY-MOVIE' 2 day workshop at Riverhouse Barn this half term!
Young movie-makers ages 7-14yrs will gain hands on experience of screen make-up, directing and performing in their very own scary movie.
Everyone gets a digital link of their final film, and friends and families will be invited in on the afternoon of day two for an interactive cinema experience!
Monday 24 and Tuesday 25 October 2022 - 9.30am to 4pm at Riverhouse Barn, Walton on Thames£85 (10% sibling discount)

For further details and to book visit: https://www.dramacubeproductions.co.uk/half-term-workshops/