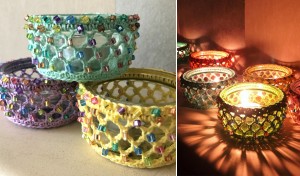 Tutor:
Merrian Holland
Date:
 Friday 14th July 2023
Time :
12:30-2:30pm - 2 hour workshop.
Cost
: £25 -  includes all materials
To book: 
Beaded Tealight Holder Crochet Course
This is a one off crochet course where you'll be upcycling Gü Dessert jars! By the end of the 2 hour class, you should have an attractive, beaded tea-light holder.
Skill Level
You must be confident in crocheting basic stitches – i.e. sc (UK double crochet), dc (UK treble crochet), slip stitching and chaining.
This is a fun & easy project!

Cost
The course is £25 for the class and includes a kit with almost everything you need to make a set of snowflakes.
★ Yarn.
★ Beads (please note, these may vary from images).
★ Ramekin.
★ Tealight
★ Elastic band.
Things to bring!
★ A 2.5mm hook – if you don't have one, please let me know when you sign up and I'll bring one to the class that you can purchase.
★ Scissors.
★ Wool or tapestry needle for sewing in ends.
To book: 
Beaded Tealight Holder Crochet Course