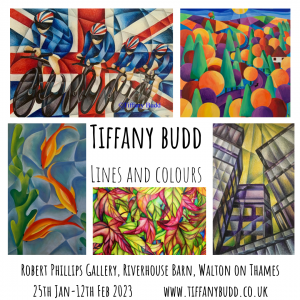 Open daily 10am - 4pm
Wednesday 25 January - Sunday 12 February 2023
Free admission. No need to book.
www.tiffanybudd.co.uk
'Beginning on the 25th January, local Surrey artist Tiffany Budd will be having a solo art exhibition, focusing on her Cubist style work, she has named Fractured. Held at the Robert Phillips Gallery, there will be a collection of around 60 original artworks, including acrylic painting, colour pencil work and miniature art.
Tiffany Budd is an established British artist with a studio based in Newdigate, and has recently exhibited with the Royal Miniature Society in London.  She also won Dragon's Den, Theo Paphitis's Small Business Sunday award which is held on Twitter, and regularly holds solo shows around the UK. In 2022 she won Best in Show at the Fine Art Trade Guild Awards in Stratford on Avon.
The exhibition 'Lines and Colours' is on for three weeks, and finishes on Sunday 12th February.'