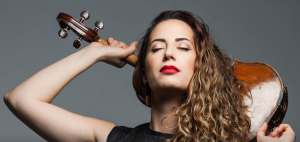 Programme:
Marchenbilder                  Schumann
Viola Sonata Op. 147      Shostakovich
Seven Spanish Songs     De Falla
Equally at home as a violinist and violist, Serbian Milena Simović is enjoying an illustrious career of concerto, recital and chamber music performances across the world. Russian born pianist Vitaly Pisarenko won first prize at the International Franz Liszt competition in 2008 and his international career commenced the morning after.
Tickets:
£15
Wednesday 18 January 2023 - 1pm
Lunch is now separate from the concert ticket.
Lunch may be purchased in the Café before or after the concert.
Please email communitycafe@riverhousebarn.co.uk to reserve a table.