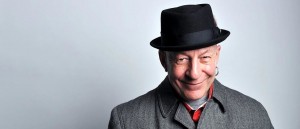 Our monthly Mock Tudor Comedy club night!
JEFF INNOCENT,
the
award winning headline comedian returns along with the inimitable
OLAF FALAFEL
 and
CAROLINE MABEY
as your MC
Multi award winning comedian Jeff Innocent has reached legendary status among his peers and audiences alike by staying at the top of his game for over 20 years. His unique appeal lies in the contrast between his east end 'geezer' appearance and demeanour, and his educated, philosophical delivery and culturally relevant subject matter. Always original, he continues to cement his position within the history of British stand up comedians with his regular performances on the UK and world live comedy circuit and has recently acquired a whole new generation of fans, through his online viral video clips.
Jeff Innocent - British Comedian of the Year 2021-22

Olaf Falafel - A surrealist comedian, children's book author/illustrator and current holder of the Funniest Joke of The Edinburgh Festival. Olaf's stand up shows include his award nominated debut hour 'Olaf Falafel and The Cheese Of Truth', 'The Marmosets Of My Mind', 'Knitting With Maracas' and the award winning 'There's no i in idiot'.
Olaf is the author and illustrator of several kids books and, as well as finding comedic success onstage, Falafel has also enjoyed online fame with his short viral videos. These absurdist movies include a croissant-coiffured talking Donald Trump puppet, slices of truth telling cheese being thrown onto newspapers and the Bee Gees hiding in his beard.
"Olaf Falafel is like a chocolate digestive – very moreish. One of my favourites" Bruce Dessau
"He's like Thor but way funnier and with a smaller hammer." Tony Law
"Punchy, surprising and highly entertaining… a gloriously daft show" Fringe Guru

Caroline Mabey - Said to be one of the most inventive comic voices in Britain, Caroline Mabey is a fringe and circuit favourite, appearing at festivals, theatres and clubs all around the country. Silly, warm and sharp as hell, she always creates a gag-packed frenzy of fun. She is a brilliant and accomplished MC, having been resident compere at the 99 Club for ten years.
Tickets:
£16
Friday 24 February 2023 - 8pm
Ages 16+ (adult content and language. Please note, while we do everything we can to make sure our line-ups are accurate, these are live events and acts are subject to change without notice for reasons which are beyond our control)
Olaf pic by Alan Powdrill – 
www.alanpowdrill.com