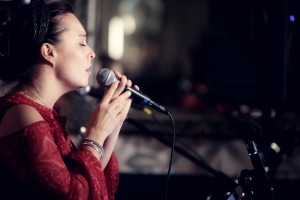 Epsom duo Dragonfly Sky bring their acclaimed singer-songwriter night to the Riverhouse Barn! Showcasing the very best songwriting and performing talent in a beautiful intimate setting.
'A wonderful intimate acoustic night of authentic musicians and entertainment - Something for everyone' 
Zack Q  
Tickets:
£15
Thursday 30 March 2023 - 8pmDragonfly Sky
Dragonfly Sky are an exceptional duo from Epsom, Surrey, with lush harmonies and an incredibly alluring stage presence. Well crafted songs with passionate vocals and skilled musicianship.
KB BAYLEY
KB Bayley is a songwriter and lap steel guitar player whose 2021 album 'Little Thunderstorms' received widespread airplay and critical acclaim: "atmospheric playing, dusty guitar and compelling songs - an album that will take some beating." (Americana UK). 
His songs and sound reveal his influences: American country blues and the Laurel Canyon era; an upbringing on both the North and South coasts of England immersing him in traditional fingerstyle folk; and contemporary troubadours like John Moreland, Kelly Joe Phelps, Gretchen Peters, Jeff Foucault and Patty Griffin. 
His new album 'Flatlands' will be released on November 4th 2022: ten songs recorded on solo weissenborn guitar and voice - sparse, emotional, confessional. 
T.I.G.Y
T.I.G.Y have had their original releases so far supported by BBC Introducing who have described them as 'Dreamy, halcyon pop from generations past to generations future' T.I.G.Y. are defined by evocatively powerful vocals and dreamy electro pop textures and take an artful and honest approach to breathing conceptual life into their songs.
Anna Renae
Anna Renae is a pop/folk singer-songwriter, weaving musical stories inspired by life's complexities. Her debut album 'Skin' was released in March 2020, and her follow-up EP 'Speaking Her Mind' was released in October 2021, which both feature songs written between the ages of 13-21, telling stories that encapsulate aspects of Anna's teenage and early adult life.
Anna's music has received glowing reviews and has attained radio play around the world, including multiple plays on BBC Introducing. She has a host of new material which she hopes to release soon.
'If Anna Renae isn't a star one day I'll know I should have retired long before now' – Folking.com