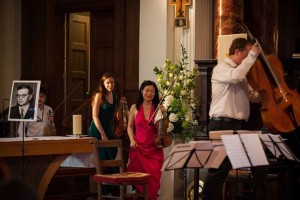 Programme to include Beethoven String Quartet No. 12 in E-flat major, Op.127
The Maiastra String Quartet will perform an evening of chamber music, which will include Beethoven's String Quartet No. 12, directed by violinist and trustee of the Aidan Woodcock Charitable Trust, Arisa Fujita.
It is the first of his "late period" quartets and was composed in 1824-1825. During this time Beethoven's life was very tumultuous, with his health failing and nearing financial ruin, and the quartet echoes this anxious and tumultuous time with dramatic and sudden polarity of characters.
The Aidan Woodcock Charitable Trust, under the name 'Maiastra', provides courses for emerging young professionals who are hoping to make chamber music a major part of their career.
Booking information will be available soon on Maiastra's website www.maiastra.org
Running time: 90 minutes plus interval.
 Friday 31 March 2023 - 7.30 pm Admission free (with a retiring collection), but please reserve a seat here, as capacity is limited.