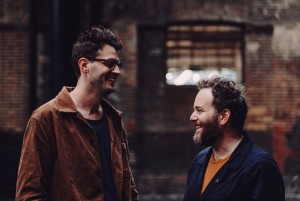 Join singers & choir leaders Ben & Dom for an afternoon of fun & uplifting harmony singing followed by a short informal performance from the duo. This event is open to all singers, no previous singing experience required!
Ben & Dom will teach a selection of accessible and tuneful songs in a fun and inclusive way. Following the workshop they'll perform a short set of songs, including original material and arrangements of their favourite classics. 
Reviews:
    'magical' - Sally (workshop participant)
    'lush songs & arrangements' - Roxanne Smith (choir leader)
    'the best singing workshop I've ever been to' Kate (workshop participant)
Tickets
: £14.50 for the workshop, £10 for the concert, £20 for combined ticket to both
Sunday 28 May 2023Timings:
2pm - 4.30pm workshop
5pm - 6pm performance
Ben & Dom are a singing duo from South London. Ben takes the high notes and Dom takes the low notes (most of the time). The intricate blend of their harmonies comes from a close friendship and shared love of singing together. Ben & Dom weave their voices around songs old and new, performing original material alongside new interpretations of folk songs. Their lyrics touch on friendship, nature and what it means for two men to sing together in this modern day.