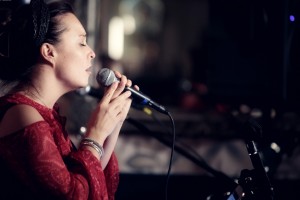 Epsom duo Dragonfly Sky bring their acclaimed singer-songwriter night to the Riverhouse Barn! Showcasing the very best songwriting and performing talent in a beautiful intimate setting.
'A wonderful intimate acoustic night of authentic musicians and entertainment - Something for everyone' 
Zack Q  
Tickets
: £15
Thursday 27 April 2023 - 8pmDragonfly Sky
Dragonfly Sky are an exceptional duo from Epsom, Surrey, with lush harmonies and an incredibly alluring stage presence. Well crafted songs with passionate vocals and skilled musicianship.
Noah Fenton
Noah Fenton is an indie folk artist based in South London. He found his inspiration through nature and his second EP titled 'From Up Down' explores the connection between emotion and natural environments.  
ELTEL 
London's ELTEL combine knock-you-dead originals & left-field covers, in order to beguile, entertain and hypnotise you. Listen out for hauntingly beautiful remakes of those songs you'd forgotten you'd forgotten. Singing along is optional but encouraged. 
Coppo the Rambler
Coppo the Rambler is a songwriter with a passion for nature and pilgrimage. He is currently on a journey to the sea and is using his experiences along the way to create folk and soul songs. His love for hiking is reflected in the lyrics of his songs, which depict the nomadic tendencies of human beings and the joy of nature.