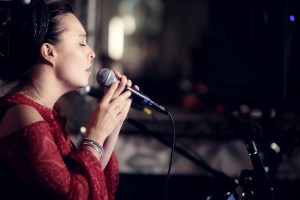 Epsom duo Dragonfly Sky bring their acclaimed singer-songwriter night to the Riverhouse Barn! Showcasing the very best songwriting and performing talent in a beautiful intimate setting.
'A wonderful intimate acoustic night of authentic musicians and entertainment - Something for everyone' 
Zack Q  
Tickets
: £15
Thursday 25 May 2023 - 8pmDragonfly Sky
Dragonfly Sky are an exceptional duo from Epsom, Surrey, with lush harmonies and an incredibly alluring stage presence. Well crafted songs with passionate vocals and skilled musicianship.
Darragh Chaplin
Throwing himself into vulnerability, darragh has homed in on his ability to seemingly narrate the complicated emotional inner-workings of most people's lives, using his own experiences to tackle topics such as social anxiety, self-awareness, and toxic idolisation. 
Sheya Lily 
Sheya Lily is a folk-pop singer/songwriter and actor from South London. She has released two EPs of original material and is currently working on a third. Sheya found a love for performing through busking in London train stations as a teenager and began writing her own songs when she studied music at The BRIT School. 
Jim Cozens
Lifetime singer songwriter, Eurovision survivor.