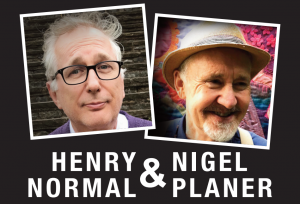 Nigel Planer is a comedy legend, an actor, writer and more importantly for this show he's a great poet.  He joins Henry Normal, BBC Radio 4's 'poet in reticence' to reunite a team that entertains, educates and informs (but mostly entertains it must be said).
Expect poetry, stories, jokes, Q & A, fun, knitwear and a few surprises!
Duration
: Two 45 minute sets (with 20mins interval) and 15 minute Q&A
Tickets:
£17.50 (£14.50 concessions)
Saturday 14 October 2023 - 8pm

Henry Normal
has worked on some of television's biggest hits – Gavin and Stacey, The Royle Family and The Mighty Boosh among them. He founded the Manchester Poetry (now Literature) Festival, has written eleven poetry books and in 2017 was honored with a special BAFTA for his services to television.
Nigel Planer
, poet and author, is best known as Neil in The Young Ones plus many other performances including acclaimed Filthy Rich & Catflap.
www.henrynormal.com
@henrynormalpoet