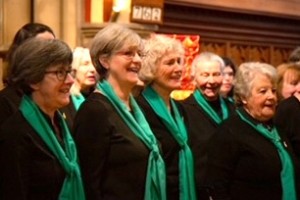 Afternoon Cream Tea and Concert
Saturday 24th June 2023  2pm
Treble Clef choir invites you to a summer afternoon concert of light music with guest solo violinist Hazel Ross and cream tea.
About Hazel Ross
Following her passion to reach audiences of all tastes and backgrounds, Hazel chose to diversify early in her career and set out to challenge preconceptions of classical music. With the highest standards of performance and musicianship central to her work, she strives to make classical music accessible to all.
About Treble Clef Choir
Treble Clef Choir was formed in 1989. We sing a range of music including classical, musical theatre, jazz, gospel , and contemporary pieces. We have also performed in a wide range of venues e.g. the shopping center at Brooklands and the state rooms at Hampton Court Palace. The following clip is taken from our performance at the Yehudi Menuhin School of Music in Stoke D'Abernon at which we helped to raise over £6,000 for a local housing charity.
Tickets: £12.50
(includes cream tea)