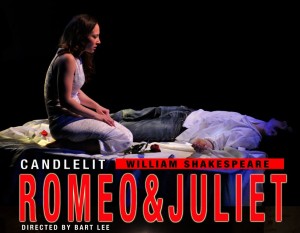 Theatre performances: Thursday 26 and Friday 27 October 2023 - 8pm
(also student workshop available - more details below) 
The friar proposes a plan: Juliet must consent to marry Paris; then, on the night before the wedding, she must drink a sleeping potion that will make her appear to be dead. Juliet will be laid to rest in the Capulet tomb, and the friar will send word to Romeo in Mantua to help him retrieve her when she wakes up. Only it doesn't work.
Tormented by his grief Friar Lawrence recounts the tragedy. A warning to adults about the power and beauty of young love. Candlelit Romeo and Juliet brings the story hauntingly to life.
Imagination exploding in the darkness. Candlelit use poetry, soundscapes, shadow and movement to bring their productions to life.
"Adapted by Bart Lee, who also directs, the production is an inspiration for modern playwrights in preserving the sensitivity and subject matter of such a classical piece" - 
The Stage
Tickets: £12.50 (performance only)
Thursday 26 and Friday 27 October 2023 - 8pm

TWO day workshop for students: Thursday 26 and Friday 27 October - 11.30am to 4pm
The two day Candlelit Romeo and Juliet workshop will be run by our theatre director, Bart Lee, with available actors from the production joining the afternoon sessions.
"In the sessions we will focus on key scenes from the play, exploring the text, emotions and objectives of the characters. We will work with students who are studying the play to help them with their understanding of themes and language. Students will also perform scenes with direction and explore the Candlelit style of storytelling."
Scripts will be provided.
Running time: 11.30am - 4pm, Thursday and Friday - to include a lunch break (please bring a packed lunch or use the Riverhouse cafe). 
Limited spaces available. Price includes one ticket to an evening performance of Candlelit Romeo and Juliet on either Thursday or Friday - see booking options. Please book the 2 day workshop selecting the date you wish to see the performance.  
Note: if workshop tickets can still be purchased but your preferred date for the performance is sold out, please contact Riverhouse Barn as it may be possible to arrange a transfer.
Workshop tickets: £60 (includes two day workshop and one ticket for either of the Candlelit Romeo and Juliet evening performances)
A
ges 12+ advised due to nature of the text (minimum ages 8+)
.