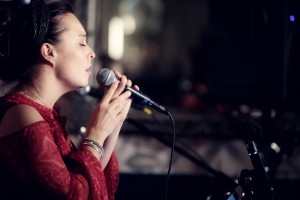 Epsom duo Dragonfly Sky bring their acclaimed singer-songwriter night to the Riverhouse Barn! Showcasing the very best songwriting and performing talent in a beautiful intimate setting.
'A wonderful intimate acoustic night of authentic musicians and entertainment - Something for everyone' 
Zack Q  
Tickets:
£15
Thursday 20 July 2023 - 8pmDragonfly Sky
Dragonfly Sky are an exceptional duo from Epsom, Surrey, with lush harmonies and an incredibly alluring stage presence. Well crafted songs with passionate vocals and skilled musicianship.
Daisy Chute
Following the release of FATEA EP of 2022 'Songs of Solace', Daisy Chute has just released her latest feminist folk offering 'Maiden, Mother, Crone'. She regularly sells out shows across the UK including top arts venues like Kings Place London and festivals including Black Deer, Bristol Folk, Cambridge Folk and Glastonbury. Recent artist residency invites include Sage Gateshead and Chris Difford/Buddy Holly songwriting retreats, and her musical about the Pendle witch trials entitled COVEN is in development with Kindred Partners (Diane Borger, Adam Kenwright).
Possessed with a "gorgeous voice" (Guy Garvey, Elbow) and recognised as a 'committed, professional and creative songwriter' (Sir Ray Davies, The Kinks), Daisy and her dulcet tones can be heard on many an advert, film/TV/game soundtrack and band album (recent credits include David Attenborough documentaries, 'Yesterday' movie, 'Shaun the Sheep' movie, ITV's 'Endeavour', Apple TV's 'Life', 'Trying', EA Games Sims 4, Radiohead 'A Moon Shaped Pool') and her original music features on radio and television including BBC Radio London, Scotland, Ulster, BBC 1/2/3, ITV, C4, Sky and across global Caffe Nero and Tesco playlists. 
"a voice like the first rays of sunlight through a Paris window, it's pure and bright and warming… Everything that she touches oozes class"
– Gavin McNamara (Bristol 24/7) 
"Absolutely superb. Captivating… The atmospheric London's on Fire richly deserves the widest possible audience."
- Paul Sexton (Billboard, BBC Radio 2, Sunday Times).
One Eyed Man
One Eyed Man is a Berkshire-born indie-folk artist, combining acoustic instrumentation with electronic ambient soundscapes. 
His act began in 2016, after leaving a comfortable life in the city to seek more than the 9-5 lifestyle. With nothing but a backpack, he travelled to Asia before settling in Australia. Mostly working hand-to-mouth, he eventually found himself busking in Melbourne, before being offered his first paid shows. 
His experiences drew him through a wide variety of landscapes and environments, drawing inspiration from the wildlife, mountains, oceans, deserts and rainforests to write wholesome songs and immortalise those memories. 
Skip four years to 2020, he returned to the UK and released his first self-made record, Nordic Skies, which piqued the interest of local venues and radio stations, including BBC Introducing. 
Celia Barrett
Celia Barrett's songs take you on a journey and tell a story. Her sensitive and sincere lyrics float amongst mesmerising guitar-led melodies which are gently soothing and thought provoking.