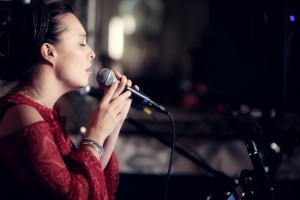 Epsom duo Dragonfly Sky bring their acclaimed singer-songwriter night to the Riverhouse Barn! Showcasing the very best songwriting and performing talent in a beautiful intimate setting.
'A wonderful intimate acoustic night of authentic musicians and entertainment - Something for everyone' 
Zack Q  
Tickets:
£15
Thursday 28 September 2023 - 8pmDragonfly Sky
Dragonfly Sky are Amy Whiter and Chris Lee-Delisle - an exceptional duo with lush harmonies, infectious melodies and an incredibly alluring stage presence. They write well crafted songs that take you on a journey and perform with passionate vocals and skilled musicianship.
They released their debut EP "Neon" in September 2018 to critical acclaim: "Neon is certainly one of the strongest EPs of the year so far" (FATEA Magazine) and their follow up single 'Willow Tree' (2021) - Featuring Phil Beer on violin - is "An exquisite addition to their catalogue, and while Dragonfly Sky have always given us wondrous harmonies, nowhere is that more true than on the new single. The vocal performances are perfect, and hearing this makes me long for a follow up to 'Neon'." Adam Jenkins - (FATEA)
Since August 2022 they have been on a mission to host and introduce exceptional acts to intimate and stunning venues with their singer-songwriter showcase sessions both at the Riverhouse Barn and the Horton Epsom. 
Alite
Alite hail from Hampshire, yet their music is perfectly at home in the USA and wherever there's an audience who love finely crafted songs. Fans of the classic era of songwriting and album production will love Alite's debut album 'In Better News'.
With co-male/female lead vocals, big guitars and lush layered harmonies, their sound is reminiscent of the treasured guitar pop/rock era of the 70's, but sits right alongside today's modern Americana and Country music.
Recently picked up by DJ Tim Prottey Jones on the UK's most popular Country Radio station, Countryline Radio, and with festival performances, including Weyfest in the summer, 2023 is an exciting one for Alite.
Steve Pledger
Steve Pledger is a multi-award-winning recording artist with an enviable reputation as a talented and dynamic performer. With writing that ranges from fragile reflections on love and loss to blistering commentaries on present circumstances, his songs pack an emotional punch, both on record and on stage. 
His musical influences are many and varied including Graham Parker, Cat Stevens/Yusuf Islam, Martyn Joseph, Van Morrison, Don McLean, Springsteen, Loudon Wainwright lll and others. 
"Poetic, knowing, clever, thoughtful & melodic; the world would be a far better place with more of this stuff."
(8/10) Americana-uk 
"An object lesson in the craft of contemporary song writing."
fRoots Magazine 
"('Somewhere Between') casts Steve as a protest singer, up there with the likes of Billy Bragg, Phil Ochs and Ewan MacColl."
Neil King, FATEA Magazine 
"Extraordinary! If you haven't found Steve before, you have now!"
Folking.com 
Karis
Looking to make her mark on the Indie-Pop scene, Karis has gone from open mics in her local pub at 11 years old all the way to the O2 Academy Islington in the summer of 2022. Her candid and vulnerable approach to lyricism paired with classic, yet intricate vocal melodies create a familiar soundscape, but with a charming, youthful flair.
She went on to study Music Performance and Songwriting at The Academy of Contemporary Music in 2020, leaving with two distinctions and the experience she needed to become an artist in her own right. In 2022, Karis spent the year writing and recording her music and now, she is ready to introduce the world to her sound.